Tours:  Sunnyside Gardens, Lincoln Square, El Barrio's Artspace PS109, Gowanus, Terminal City,
After 15 years of neglect, Public School 109, a grand, neo-Gothic style school designed in 1898 by Charles B. J. Snyder, underwent a dramatic restoration and conversion to artists' housing. Completed in 2015, this massive undertaking was carried out by Hamilton Houston Lownie Architects and Victor Morales Architects. The building, which now holds 89 units of affordable live/work space and 10,000 square feet of complementary space for arts organizations, reopened in 2015 as El Barrio's Artspace/PS109. Artspace, a nationwide non-profit organization, operates 35 arts facilities in 15 states. Join us as Property Manager Rolinda Ramos takes us inside P.S. 109 for a tour of this renovated masterpiece that links the civic pursuits of historic preservation and affordable housing.
Meeting location provided after registration 
Friends | Student | Seniors – $10
General Public- $20
---
Saturday, April 2, 10 AM                 Gowanus: Community Planning
                                                                  in a Changing Context
Walk the landscape and the bridges of Brooklyn's famous coastal harbor inlet with members of FROGG: Friends and Residents of Greater Gowanus. Hear stories of old from tour guide Joseph Alexiou, author of the newly published book, Gowanus: Brooklyn's Curious Canal. Learn how community planning and grassroots interactions have given shape to a future Gowanus, and experience firsthand the present-day impacts of Mayor de Blasio's first experimental "high-rise affordable housing" now towering over the low-rise, early industrial district of the Gowanus Canal.
Meeting location provided after registration 
Friends | Student | Seniors – $10
General Public- $20
---
Sunday, April 3, 10 AM                    Terminal City: Past, Present, Future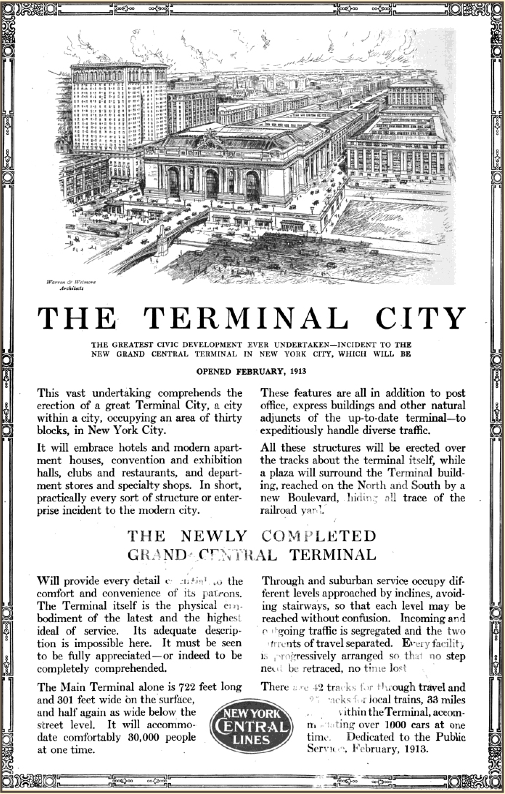 Explore preservation, zoning, scale and development issues with this tour of iconic Park Avenue in Midtown with Architectural Historian, John Kriskiewicz, Associate AIA. The New York Central Railroad completed Grand Central Terminal in 1913 as a rational, monumental gateway to the city. Utilizing the progressive ideals of the City Beautiful Movement, the Terminal was conceived as the focal point of a much more comprehensive plan. The open air railroad yards to the north were replaced by new underground double deck rail yards. On top, a coordinated, income-producing real estate development called "Terminal City" took shape. The Post-World War II building boom brought about a frenzy of rebuilding on almost every block, transforming Park Avenue from a Beaux Arts Boulevard into a gleaming thoroughfare of International Style Modern skyscrapers. Today, remodeling, rebuilding and redevelopment are reminding us about the issues of preservation, zoning, scale and development. What is the balance? What is at stake? Can redevelopment be planned to fulfill the ideals of a 21st Century "Terminal City"?
Meeting location provided after registration 
Friends | Student | Seniors – $10
General Public- $20
---
Saturday, April 9, 10 AM            A Walk Through the Sunnyside Gardens
                                                                  Historic District
Jeffrey Kroessler and Laura Heim will lead a tour of this 1920s garden suburb designed by Clarence Stein, Henry Wright and Grosvenor Atterbury, with landscape architect Marjorie Cautley. The tour begins with a presentation on the history of Sunnyside, the struggles over preservation and the difficulties and opportunities of practicing architecture there. The tour will walk through several of the courtyards and includes a stop at Lewis Mumford's house, and ends at the designated Phipps Garden Apartments, model tenements designed by Clarence Stein built in 1931. In addition, the tour will highlight renovation projects completed since designation in 2007.
Meeting location provided after registration 
Friends | Student | Seniors – $10
General Public- $20
SOLD OUT ! 
---
Sunday, April 10, 2 PM                    Lincoln Square: Urban Planning in
                                                                  Mid-20th Century New York
Generally bounded by Amsterdam and West End Avenues and stretching from 59th to 65th Streets, Lincoln Square was famously the site of a major redevelopment scheme in the 1940s and 1950s. While the New York City Housing Authority cleared what was thought to be some of the city's worst slums to build the Amsterdam Housing Projects, civic leaders including John D. Rockefeller III and Robert Moses made plans for Lincoln Center for the Performing Arts. Join architect and author of Old Buildings New Forms, Françoise Bollack, for a tour of a neighborhood transformed by urban renewal. The tour will take in the Amsterdam Houses, as well as a number of schools, including the Martin Luther King, Jr. Educational Campus and the Fiorello H. LaGuardia High School of Music & Art and the Performing Arts.
Meeting location provided after registration 
Friends | Student | Seniors – $10
General Public- $20